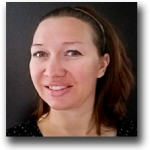 We're delighted to welcome Jaime Ainsworth to our staff. Jaime joined us a few weeks back and will be helping us meet the needs of our clients and our contractors by providing administrative support to Peregrine's executive team.
Jaime comes to us with a history of excellence in providing executive-level administrative services to Bay Area business professionals.
Some of Jaime's top skills are in the areas of social media marketing, networking and customer service. She's also good with process work, "I've always enjoyed the streamlining of processes and procedures that allow for individuals and businesses to operate as seamlessly as possible."
In addition to being a skilled executive assistant, Jaime is an avid archer and closet crocheter.
Please help us welcome her to Peregrine!