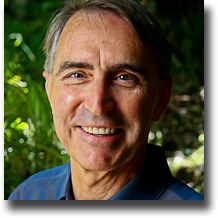 Walter Ratcliff, our dear friend and one of Peregrine's favorite Bay Area business partners, died last week.
Walter was the consummate performance consultant — well-versed in the language of business and the best practices of human performance technology (HPT). He was clever, funny, smart, had a strong sense of integrity and was always interested in providing his and our clients high-quality outputs at reasonable prices. He was one of the sharpest consultants we worked with.
Russ Powell and Walter met in 2010 when Walter attended one of Russ' webinars on Thiagi's four-door (4D) model for eLearning. Almost instantly, they recognized in each other a mutual interest in bringing the best practices of HPT to learning and development (L&D) projects and began to collaborate on projects for companies such as Roche and Genentech.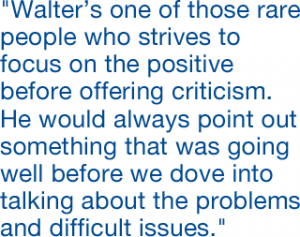 After Joe Halpin and Russ formed Peregrine Performance Group, Walter consulted with us on several projects, including most recently a change management project proposal we developed in Spring of 2015.
One of Walter's most endearing characteristics — and one seemingly essential for long-term management consultants — was that, while certainly aware of the dark-side, the pitfalls, the potential problems, he almost always tended to look for the light-side, the positive, the silver lining.
In 2011, after completing one of their first projects together, a project that had unusual constraints and very tight deadlines, Russ wrote of Walter,
"Throughout the project, despite a handful of setbacks and obstacles, Walter remained focused on delivering performance-based products of the highest quality possible.

"I was consistently impressed by his knowledge of, and ability to apply, principles of HPT. He's also well-versed in change management strategy and skillful at helping organizational leaders uncover barriers to performance — obstacles that, as they are addressed, will almost certainly help leaders realize their visions and reap the full benefits of their training initiatives.

"One of my favorite things about working with Walter is that he's one of those rare people who strives to focus on the positive before offering criticism. More often than not, when I brought issues to him, or he had change requests for me, he would point out something that was going well before we dove into talking about the problems and difficult issues."
Walter held degrees in the behavioral sciences from University of California Berkeley and University of Utah, and worked as an HPT consultant for thirty years — in banking (Wells Fargo, Mechanics Bank), transportation (Southern Pacific Railroad), software (Oracle, HP, Sun Microsystems, SAP), retail (Sephora, The Gap), biotech/pharmaceuticals (Roche, Genentech) and automotive services (AAA).
In the mid-nineties, while working with American Training Systems, Walter led the redesign and change management of a complete transformation of the Southern Pacific Railroad accounting department including workflows, organization, and the physical work place.
Walter was a regular at ISPI events (International Society for Performance Improvement) and several of his projects earned industry honors, including most recently awards from CIO Magazine (Top 100) and Leadership Excellence Magazine (Leadership Excellence 100).
Lynn Kearny mentioned recently that she and Jim Hill (more ISPI colleagues) were corresponding and Jim put it well, saying, "I can't think of anybody who didn't love that guy."
Walter, we miss you something fierce. And yet, of course, we're delighted and somewhat envious that the Great-Big-Designer now has you on h/her team planning performance interventions for the universe.
– – –

Many thanks to Lynn Kearny and Elizabeth Balderston who helped clarify and add information about Walter's life and career. See, also, the Bay Area chapter of ISPI's tribute to Walter, and his obituary at SF Gate.

What's Your Favorite Recollection about Walter?
If you knew Walter, write to us or use Leave a Comment below, to tell one of your favorite recollections or stories about him. We'll add your contribution to this post.