I tend to think of designing e-learning solutions as creating these little-worlds or environments in which users can carry out activities. I'm not a software programmer or web designer, but I imagine the e-learning design experience has things in common with software design, including creating the best user experience for the task at hand. Now I don't know if you have ever conducted a user experience study (usability) for an e-learning project, but it's similar as if you were designing a software application, web site, or mobile app. And it can be very involved. The first step is selecting which method to use to test the user experience. To help you with that, I've just read about a handy tool (job aid) I'd like to share.
Over at the Nielson Norman Group's blog, Christopher Rohrer looks at When to Use Which User-Experience Research Methods. Mr. Rohrer places twenty types of user experience methods on a 3-dimensional framework composed of Attitudinal vs. Behavioral, Qualitative vs. Quantitative, and Context of Use. Included is a breakdown of each dimension, what questions are best answered in each dimension, context of use, product development factors, and a short description of each UX method.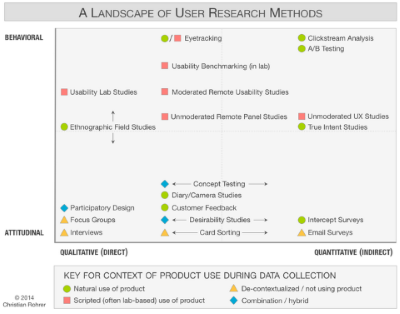 I will be using this tool when thinking about my next e-Learning design. I hope you enjoy the read.