We've been doing some research on trends in eLearning for 2016. Here's a quick summary of what's caught our collective eye: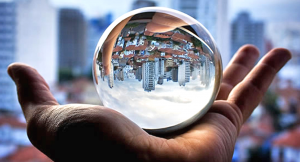 1 – More resources, less courses
We've long been fans of job-aids. Recall Joe Harless' famous line, "Inside every fat course there's a thin job-aid crying to get out." While eLearning courses are certainly not going away, we're seeing growing interest in the design and development of just-in-time resources (i.e., performance support tools).
According to Aurion Learning, "Courses help prepare you for the future (just-in-case) and resources support you in the moment (just-in-time)."
More and more organizations are considering questions of when to build courses versus when to build performance support tools. And when, of course, to combine the two.
See Aurion's blog post for more.
2 – Outsourcing is on the rise
With the perfect storm of (a) tighter Human Resources budgets, (b) heavier HR workloads, and (c) greater recognition of training and development as a specialty (i.e., you can't just build effective, relevant training programs — at least not quickly — without experts in both content/subject-matter and instructional design/development), more and more companies are turning to eLearning design and development specialists for help. This includes not only pre-design analysis and planning activities, but also assistance with program and product evaluation.
This trend is reflected in a recent Docebo study and emphasized by CLO Magazine.
3 – Short-form Video
Bite-sized chunking has been around for a long time in eLearning — the idea that in order to match the speed of business you must keep nuggets of training short and sweet. This trend coupled with the steady, growing use of video adds up to organizations turning to the more use of short, bite-sized video in their training programs and performance support tools.
Ryan Eudy of ej4 agrees, "Nowadays companies are steering away from long lecture-style videos and opting for videos that are short, engaging and to the point."
For more on this, see Rudy's post at Forbes.
4 – Use of Big Data
Every year it gets easier and less expensive to collect user information in real time. Companies on the whole are getting smarter and better at taking advantage of this big data. When considering eLearning, organizations are focusing on two types of information: feedback from learners and analysis of individual learning pathways.
For more, see Isabel Williams' post at eLearning Industry.
5 – Finding new and better ways to offer compliance training
Many companies continue to struggle with best ways to design and deliver compliance training. Dokeos reminds us that "failure to comply can have very serious consequences, including financial ones." And with regulations continuously evolving, companies continue to look to eLearning as a tool for communicating and teaching about organizational standards. eLearning allows organizations to easily update content as it evolves.
Christopher Pappas, founder of The eLearning Industry Network, suggests that we will continue to employ and update the following best practices for compliance training:
Use of eLearning assessments for (a) understanding our workforces and (b) their mastery over compliance techniques and subject matter.
Use of stories for making compliance training more relevant and engaging.
Bite-sized content chunking to help learners retain more and avoid cognitive overload.
Use of simulations and games to help workers learn from mistakes.
For more on this, see posts from Dokeos and eLearning Industry.
5 – Greater acceptance of social media as an important learning resource
Ever since our work with Thiagi on his four-door model, we've been big fans of giving learners more and better ways to interact with each other and with experts who have mastered the concepts and principles they're learning.
And as Livia Mihai, of Matrix LMS, points out, "It's no surprise that learners catch on faster to information when socializing. More and more companies are now using social media tools — sometimes integrated within their LMS — for easy and fast communication. Learners can ask questions, share their concerns and give advice to others on course modules or team projects, therefore creating a community of practice. And all this happens in platforms that resemble their favorite social networks, thus making their experience more entertaining and familiar."
In 2016, look for greater acceptance by high-performing organizations of social media as an important and powerful tool for engaging learners.
See also Livia's post and Digital Chalk for more on this.
6 – Massive online courses (MOOCs) will continue to grow
Josh Bersin, Principal and Founder of Bersin by Deloitte, points to data recently released by Class Central on the growth of online courses (MOOCs) and simply calls it "amazing." He notes, "more than 35 million people have enrolled in online courses in the last four years, and 2015 enrollments doubled from 2014. (That's equal to one out of five working professionals in the US!)"
The number of MOOC courses currently available is astounding and includes corporate training programs from companies like Udemy, BigThink, Pluralsight, Lynda, NovoEd, and Skillsoft. With the growth of bandwidth, new "freemium" business models, content getting better and better, and the value placed on education, look for these types of courses to continue to grow.
For more on this, see Bersin's post on the explosion of MOOCs.
7 – The quality of mobile learning tools and content will get better and better
According to eLearning Industry — and this is no surprise — "roughly two-thirds of U.S. adults now own a smartphone" and "84% of employees use the same device for work and personal use." With numbers like this, look for more and better efforts to:
Format content for small screen sizes
Use HTML5
Divide curriculum information into smaller, digestible chunks to accommodate shorter mobile learning sessions (there are those bite-sized chunks again (a.k.a. microlearning)).
See elearningindustry.com's trends report for more.

Follow Peregrine Performance Group on Twitter, LinkedIn, Facebook and Google+.

Posted in: Advice, Consulting, Design, eLearning, Four-Door Model, Learning Organizations, mLearning, Mobile, Research, Tools, Training
Leave a Comment (0) ↓