One of the highlights of my year this year was being honored by the good people at The Institute for Performance and Learning (I4PL) with an invitation to present a TED-style talk at their annual conference in Toronto, Ontario.
Exhilaration and Terror
At first I felt exhilarated about the invitation, and then terrified—more or less exactly how I felt as a professional juggler in Atlanta back in my twenties. As an introvert, I worried that my audience wouldn't be impressed, or wouldn't laugh, or wouldn't pay me. Each time a show went well, it was a delicious and unbelievable high. I would feel utterly elated, like I'd solved a complex and difficult problem.
At this year's conference, I spoke about lessons I learned during that time, when I was performing as a busker. (In the late eighties and early nineties, in addition to other jobs, I spent several years street performing and learning to work crowds and entertain as a professional juggler.) Many of these lessons, oddly enough, still apply to my work today in instructional systems design (ISD) and training consulting at Peregrine.
(Attending the conference can cost over $1,000 USD—including airfare and accommodations—but you can watch my talk here for free. If the video embedded here doesn't work well (e.g., it hangs or plays slowly), watch it on YouTube.)


Key Points
A few behind-the-scenes thoughts about my performance and the issues I talk about in it:
Take Risks
The first lesson I offered was really about taking risks. It might not be the first thing you think about, but quite frankly the biggest risk I took as a professional juggler was asking my friends and colleagues to watch and critique my shows. The fear of potential embarrassment always felt sharper and more dangerous than the knives, torches and hatchets I was throwing around. But these rehearsals and feedback were critical to my success.
At Peregrine, as instructional systems designers, we encourage our clients to go beyond traditional 'smile' sheets and evaluate actual on-the-job performance—the performance of their employees and customers, but also the performance of their training teams and departments. I think this is—actually I know it is—often difficult for them. It's risky. Sometimes I think participating in a good, solid feedback loop is scarier than a flying hatchet, but it's also one of the shortest routes to better performance.
Engage with Your Audience
The second lesson was about engagement. As a juggler, I would pull onlookers into my shows in a variety of ways. I'd invite them to connect through simple questions (Where're ya from? What brought you to town?), silly tricks (I'd borrow a kid's ball-cap and balance it on my nose), and close-up magic (I'd ask for a woman's lit cigarette only to make it disappear, hot-end first, in her boyfriend's jacket).
I'd have audience members select and even throw props to me. I would ask for a brave volunteer to hold and examine my knives (carefully) just to prove that they were indeed sharp and dangerous.
Over time, I discovered that when I got people more involved in my shows, the crowds grew larger and people stuck around longer. There was more engagement, more fun and more laughter. And my hat, which I would pass around to collect cash, got heavier.
Thinking of instructional design, one of my mentor's, Thiagi, would say that in any given instructional project, the person who learns the most is rarely the student; it's usually the instructional designer. After all, it's the instructional designer who is out there interviewing the experts, evaluating source materials, and creating the instructional materials—and learning all through the process! At Peregrine, one of the secrets to our best instructional design work is getting out of the learners' way. We work hard to empower participants and hold them accountable. Whenever possible, we encourage their involvement in designing the training; conducting the training; and testing the job aids, quizzes, and games that will help future participants learn.
See this series of posts for additional lessons I learned from Thiagi.
Embrace Your Mistakes
The third lesson was about becoming more comfortable with mistakes.
Preparation vs. Magical Thinking
Juggling, like training, is about skill, mastery and hours of practice. To make a 30-minute show look effortless and spontaneous, even magical, I'd prepare for up to 100 hours. And that's on top of the 10,000 hours of juggling practice.
As an instructional systems designer, I sometimes have to dispel some 'magical thinking' about getting people (i.e., workers) to perform better. One hour of training with a superstar trainer rarely makes an impact on larger performance issues. At Peregrine, we help business leaders have greater impact by not only designing award-winning training for them but also helping them examine and prepare for what managers need do in addition to training: setting clear expectations, providing clear and regular feedback, offering reasonable incentives and ensuring workers have the tools and resources they need.
Mistake Recovery Strategies
Back on the topic of recovering from mistakes, as a juggler, I'd often lean on what juggler's call drop lines. A few of my favorites were: "Whoa. Sudden burst of gravity there. Did you feel that?" and "Just part of the act. The part I didn't practice." These often drew laughter and helped me acknowledge the mistake and move on.
In business, however, mistakes are not often laughing matters. But, given the fast pace of business and the need to "have things done yesterday," mistakes occur and sometimes more often than we'd like.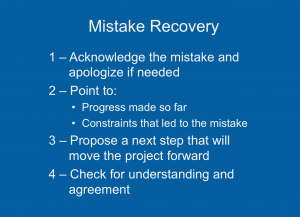 One of my favorite ways to address mistakes in my work is to say and do something along these lines:
1 – Acknowledge the mistake and my/our role in it. Apologize if needed. "You know, [insert client name], you're absolutely right. That's a problem…."
2 – Acknowledge (a) progress made so far and (b) constraints that may have led to the mistake. Explain in a non-defensive way what led to the mistake. This can often help the client understand why it happened and how to avoid it in the future. "At the same time, I'd like to point our that we have [insert a key point or two of progress]. And, given [insert constraints affecting the progress of the project such as tight deadlines, lack of availability of SMEs or other reviewers, critical-path issues unforeseen at start of project, etc.] we're lucky to be as far along as we are…."
3 – Propose a next step or two that will move the project forward. "Here's what I think we need to do next to fix the problem and keep the project moving along: [Insert a realistic and reasonable next step or two.]"
4 – Check for understanding and/or agreement. "How does that sound? What do you think?" The important point is to see if the client is agreeable to the proposed next steps (and/or open a dialog to gather ideas on which you both agree) and then move the conversation toward how best to take the next step.
Mistake Recovery Principles
A few additional mistake-recovery principles from HBR's Amy Gallo: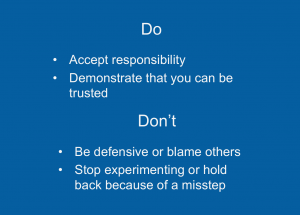 Do –
Accept responsibility for your role in the mistake
Demonstrate that you (and your team) can be trusted with equally important decisions in the future
Don't –
Be defensive or blame others
Stop experimenting or hold back because of a misstep
For more, see Amy Gallo's post.
To see me juggle, while talking about risk, engagement and handling mistakes, watch my video here (above) or on YouTube. For professional assistance with your training and/or performance improvement initiatives, contact Peregrine today.
Look for another post out soon regarding lessons I learned while preparing for this presentation.
By Russ Powell
Edited by Maria Ginsbourg

Thank You!!
A big shoutout to the many, many good people who helped me behind the scenes with script writing and re-writing, joke-polishing, rehearsals, photography, ghost-tweeting, shipping knives across the border, and the thousand other things that go into something like this.
Thank you, Joe Halpin, Deborah Klein, Andrew Hidas, Jaime Ainsworth, Mark Bunnell, Terry Teplitz, Jane Duffy, Meghan Bell, Lisa and Gilbert Eldredge, Maria Ginsbourg, Chuck Barnitz, Alan Woontner, Mac and Nancy Freeman, Chris Bell, John Chenoweth, Robert Howseman, Sybil Hunt, Kim Jenson, Mark Sowers, Joe Gabaeff, Paul Polling, Jim Wolfe, Gregg Brown, Jennifer Spear, Clare Santos, Paul Harris and Mombo's Pizza. If I inadvertently forgot your name, let me know and I'll add it to the list. THANK YOU!!

Photos and Transcript
For photos of the rehearsal and the performance, click here. For a transcript, click here.

Follow Us
Follow Russ on Twitter at twitter.com/RussPowell and follow Peregrine on Twitter, LinkedIn and Facebook.

About I4PL

The Institute for Performance and Learning (I4PL) is a not-for-profit organization developing workplace learning professionals. The Institute guides practitioners and helps Canadian employers and public policy makers understand how to evaluate – and support – the role of workplace performance and learning across Canada.