The North Bay's premier workforce performance improvement company celebrates three years of enabling success.
SANTA ROSA, CA – Peregrine Performance Group, the North Bay's premier training design and performance improvement consulting firm, celebrates its three-year anniversary this fall.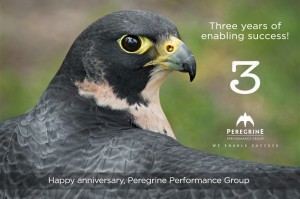 Peregrine helps North Bay businesses increase employee productivity, reduce high rates of turnover, decrease costs, maintain quality, and reduce exposure to hazards through the use of human performance technology (HPT) strategies and tools. HPT is a systematic approach to improving individual and organizational performance.
Russ Powell and Joe Halpin, North Bay residents who are known and respected around the globe for their award-winning work in training and development, founded Peregrine in 2012 in order to bring HPT expertise and methodology to North Bay businesses.
Peregrine's Solutions Valued Across Multiple Industries
Peregrine has experienced considerable success working on performance improvement initiatives in a wide range of industries including biotechnology, hospitality, geothermal energy, solar, high-tech and software. Recently, they completed a project with SAP Marketing designed to help social media channel managers use tools like Twitter, Facebook and LinkedIn more effectively.
Peregrine is currently helping a multinational software company attract, develop and retain recently graduated professionals. They're also engaged in a long-term contract with a global leader in hospitality to train front-line employees on the culture of luxury travel.
"Our experience across many industries and with a wide range of performance issues has provided us with a large toolbox from which to draw when helping organizations improve and sustain the performance of their workforces," says Mr. Halpin.
Trends Seen in Program Evaluation
This year Peregrine experts were invited again to serve as judges in the Brandon Hall Research Group's "Excellence in Learning" and "Excellence in Technology" awards programs. These awards are coveted prizes among teams of eLearning and learning-technology professionals. "It's an extraordinary honor for us to be asked to serve in this capacity," says Mr. Powell.
On a trend he's seeing, Mr. Powell noted, "in the past 18 months, we've found more and more organizations interested in our evaluation services. Business leaders are looking for effective ways to prove or disprove the value of their training initiatives. We help them examine and improve the ways they measure the results of their learning and development initiatives. We love that – it tells us they're serious about talent development."
—
Follow Peregrine Performance Group on Twitter, LinkedIn and Facebook.