DUBLIN, CA — Peregrine Performance Group took their games and gamification presentation to San Francisco East Bay last week.
Peregrine consultants introduced an audience of East Bay training professionals to the work of Sharon Boller, Karl Kapp, and Karlea McCoy, and helped them learn important concepts and principles of game-based learning and gamification  The Peregrine team also walked the audience through two case studies based on recent Peregrine projects.
Responses from the host, ATD East Bay, were enthusiastic. "The topic is highly relevant and I liked your approach," said Joe Novosel, L&D consultant and President of the Association for Talent Development, San Francisco East Bay.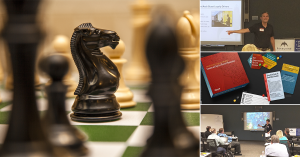 After Peregrine co-founders, Joe Halpin and Russ Powell, kicked things off, Mr. Powell emphasized the importance of good design and recommended that newcomers to the field play games as a first step toward building skills in game design and development.
Terry Teplitz, an independent contractor with Peregrine, offered insights into her work in game design and development with one of our high-tech clients—a multinational enterprise software company. Terry covered some common challenges in game design and development—including technical, content and engagement issues—and proposed possible solutions for some of those challenges.
Mr. Halpin walked participants through a case study that demonstrated how Peregrine is helping a global hospitality company use games to teach service associates how to understand and address the needs of guests from Arab cultures. This is part of a larger initiative to boost loyalty scores among Arab guests.
The least exciting element of any game is the points, badges or leaderboards. People don't play a game just for points, they play for mastery, to overcome challenges and to socialize with others. The most effective gamification efforts include more than points and badges — they contain elements of story, challenge and continual feedback as well as a high level of interactivity. —Karl Kapp

Many thanks to the ATD East Bay leadership team for the invitation to speak and for helping make the program a success.

Follow Peregrine Performance Group on Twitter, LinkedIn, Facebook and Google+.