I read a great article this weekend about Amit Singh of Google for Work — a Corner Office interview between Mr. Singh and Adam Bryant of the New York Times. Here are a few of my favorite excerpts:
On Coaching
"The best coaching is in the moment and actionable. [Not during formal review time. And…] It's about trying to make somebody better versus criticizing someone for doing something. Done right, people love it, because you're really invested in their success."
On the Importance of Inspiration and Communication
"Whatever amount of time you're spending communicating, it's never enough. I realized that so much gets lost in translation in emails. You have to spend time communicating your point of view and establishing a vision for the team and how you're going to get there. It's super-important.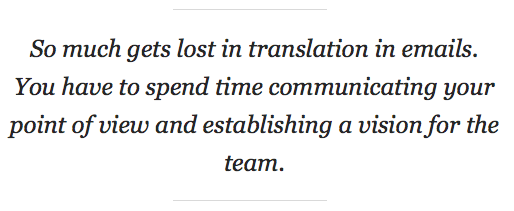 "I think people are looking for inspiration. Work needs to have meaning, and they want to feel like they're part of something bigger. To do that well, you have to be thoughtful, and you have to communicate effectively."
On the Importance of Prioritizing
"I've learned over time that you can't do too many things well. And so you narrow the focus down to the things that truly matter, which forces you to prioritize ruthlessly. Sometimes you just have to say that you're not going to that meeting. That takes some self-confidence and discipline."

On the Importance of Diversity of Thought 
"Diversity of thought is the most invaluable thing in a business community. If we're always agreeing with each other, then we haven't gone down paths of debate that allow new ideas to emerge.
"Some of the best discussions are passionate but respectful, so that you leave a meeting without feeling like you've lost something, even though your point of view may not have been the one that was adopted. That is what fosters innovation in a company — a clash of ideas, but a respectful clash."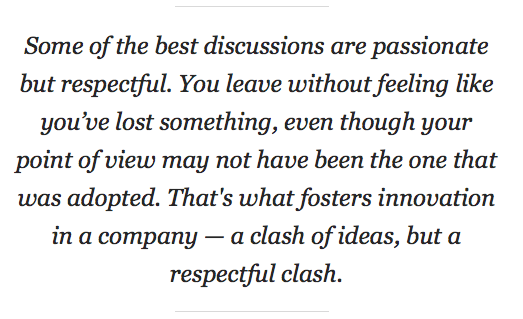 Advice for New Graduates
"[You] grow up learning a few things about how to approach problems. The piece that [you] possibly miss is that, once you're in the real world, it's all about other people. Giving is more important than your point of view.
"And learning how to get along and work together, to work in a team, is the difference between frontline managers and leaders. Leaders find a way to work together. They find a solution. There's always a way, and you've got to find what that way is."
For the full article, follow this link.

Follow Russ Powell on Twitter and Peregrine Performance Group on Twitter, LinkedIn, Facebook and Google+.