Welcome
Welcome to the resources page for How to Recognize and Create Damn Good Job Aids. From this page you can download our presentation and grab copies of sample job aids. The books listed on this page are our go-to references when developing job aids for our clients. And don't miss Atul Gawande's TED talk, How We Heal Medicine.
Publicly available job-aids referenced in our presentation: 
Contact us if you have any questions or need assistance designing or developing performance support tools for your organization.
Follow us on Twitter and/or LinkedIn.
Presentation Slides
Worksheets
Worksheets we use in our "hands on" version of this session:
Related Resources
Atul Gawande's TED Talk
Doctor and writer Atul Gawande discusses new ways to approach medicine — with fewer cowboys and more pit crews.

Blog Post
Cowboys, Pit Crews, Doctors and Checklists – A Summary of What We Do — a Peregrine post summarizing key points from Gawande's TED talk.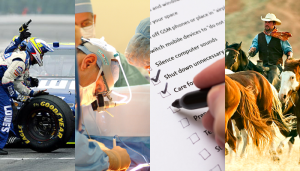 0 Comments